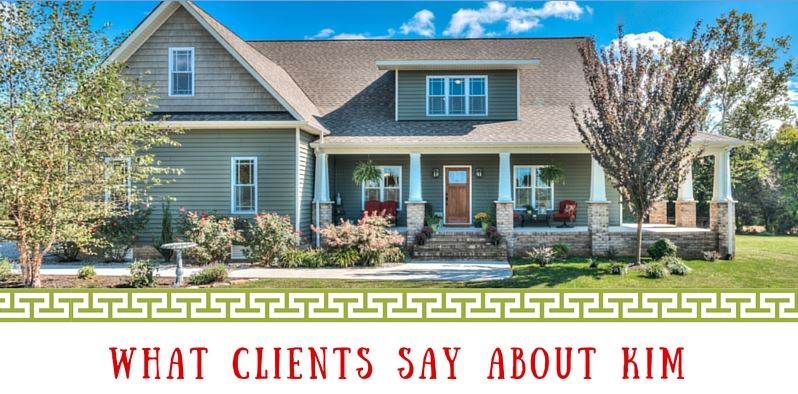 "Kim has an amazing knowledge of the different neighborhoods and markets in Richmond and was a proactive advocate for us throughout the whole process. She understood what we were looking for, helped us find the ideal property, and then helped us negotiate a great price based on her experience in the market and understanding of the properties available. She walked us through each step of the process, all the way through closing to make sure things went smoothly and we knew exactly what was happening."
– Heather & Chris Coyne, Church Hill
"Kim is a professional in Real Estate. She enabled us to sell our home FAST. She had great ideas to improve the home prior to sale and with her advice every part of the sale went smoothly. She is impressive, very thoughtful and trust – worthy. I cannot praise her tireless efforts enough as she assisted us in this transition."
– Henry and Rose Ann Campbell , Glen Allen
"Kim was very detail-oriented and enthusiastic and helped me make my home more appealing by way of staging and some other cosmetic updates to the interior and exterior decor. She was also very proactive in getting my listing in North Chesterfield distributed to a wide audience, which resulted in a sale without me having to compromise on the already competitive asking price. I had previously had my home listed with another agent for 9 months without any offers. I would highly recommend Kim to anyone looking to expedite the sale of their home in the Richmond and surrounding areas!"
– Janet Zink, North Chesterfield
"This was my first experience buying a home, and I couldn't have asked for a better realtor than Kim. She made time to show me plenty of homes on a short term notice, as I only had a month to relocate for my job. I knew nothing about Richmond prior to condo hunting, but throughout the process Kim shared her thorough knowledge about the city to help me find the best home for me. She was very attentive and always got back to me in a timely manor; she honestly coached me through my first buying process. We looked in The Fan & Museum Districts, Churchill, Jackson Ward… and I ended up purchasing a condo in The Fan, 23221 zip. I love my new home, and I couldn't have done it with out Kim!"
– Claire & David Duval, The Fan
"Huge Shout Out to Kim Bergin!! Reach out to her if you're looking for a new home (or want to sell yours) anywhere in or around Richmond. You'll be glad! When my fiance and I found the house we wanted, we contacted Kim and she took it from there, making the entire process smooth and seamless. Previously, people scared me about all this last-minute stuff that could come up when buying a house and how long the process could take. We started the process on 9/28/2015 and closed on 10/30/2015 with no hiccups (we could have closed even sooner). That includes everything from Offer to Contract, to Inspections, Appraisals, Surveys, Rent-Back, Loan Approval, Insurance, Law Firm, etc. It was a totally unimpeded transaction, and Kim was in the center of it, keeping us on-task with everything we needed to do on our end.
So again, we got nothing but great things to say about Kim, her team, and her connections. Hit her up (or hit me up and I'll connect yall) if you need to Buy/Sell a Home. While I'm at it, here's a link to her Home search site…www. kimsellsrichmond.kwrealty .com"

– Jaye Toler
"I was lucky enough to meet Kim when she was actually selling her own house and I think fate put me there! Kim just helped me buy my first home and I couldn't have asked for a better guide through the journey. I looked in a number of areas – the near West End, Monument Park, Rosedale and Bellevue –
but ultimately found my home in the Bryan Parkway neighborhood. Throughout the entire process, Kim was my advocate, advising me through the contract, inspection and closing – making sure I understood every step and asking questions on my behalf that I didn't even know I had. Even as we were looking at homes, she voiced her opinions like a friend, all in the sake of finding me the right house. I was delighted in how accessible she was – something that I imagine is impossible for a client to receive if they're working with a larger team. I can't begin to recommend Kim enough and first time home buyer or not, anyone would be lucky to have her help in buying their next home"

– Buyer in Bryan Park
"Kim is very knowledgeable about the area and not pushy. When looking for houses she gave her honest opinion on locations more like a family member or close friend not someone just trying to make a sale. She followed up and also came to the closing. If you are looking for a realtor Kim is your
person."

– Crystal Holmes King, Mechanicsville
"A friend and I met Kim at an open house, and when we left we both said to each other that we'd be happy having her as a realtor…and within a few weeks, we were both working with her to buy our houses. Kim is knowledgeable about the area, very flexible with scheduling, and fun to be around! I
ended up finding the perfect house on our first day out looking, and Kim helped make the rest of the process as smooth as I could have hoped for as a both a first time home-buyer and someone with unconventional finances."

– Buyer in Henrico
"Kim was great to work with, and very knowledgeable of the local areas I was looking in. She was very easy to get in touch with and always quick to respond to any phone calls or messages I may have left for her. She was very helpful in answering all my questions about the market today, since I had
now purchased a home in over 10 years. Thanks again Kim, you were GREAT."

– pwhancock, Mechanicsville
"Kim is a true professional. She was with us through a sale and purchase. She sold our house with no central air in June for full asking price! Kim proved herself to be an incredible negotiator on th buying end. I would highly recommend her."

– neemcgee, Tuckahoe Village
"Kim did an outstanding job representing me as the seller… with over 20 years in the business, she is extremely familiar with the local market and went above and beyond serving as an agent on my behalf. Kim truly went to bat for me, ensuring that each step of the sale went as smoothly and swiftly
as possible, especially in the face of a rather difficult buyer. I have dealt in real estate for many years, and my hat is off to Kim and Keller Williams for the true professionalism and integrity shown throughout the sale of my home. Many thanks for a job extremely well done!!"
– Gaylen Clarke, Mechanicsville
"I met Kim several years at an open house in Richmond, VA. At the time, I was looking for a place for my mother. Kim was engaging, friendly and very knowledgeable about real estate in the area. I liked her right away and agreed to engage her as our agent. She found a house for my Mother and 1 year
later she closed a deal on a house for me! Due to Kim's level of tenacity, efficiency, comprehensive knowledge and degree of professionalism, she will be our first point of contact for all real estate transactions in the future."

– Ann J., Bellevue
"Dear Kim, I'm hoping this will let you know how pleased my husband John and I were with the wonderful job you did in marketing and getting my father's home at 2304 Lakeview Ave, Richmond, VA sold so quickly. We were really excited when we first met because you took such an interest in helping
us make the house more sellable, recommending the appraisal and expressed that you were working to get the property sold within 30 days. And that you did!!! As a matter of fact, it was before 30 days from the date you began representing us that you brought us the offer that sold the property. My family is extremely grateful for the wonderful job you did. I have already given your name out to a few people who asked me who was my realtor and I intend to recommend you to anyone else who is looking to buy or sell a home. Again, much thanks to you and the work you did for us. You are an asset to the 1776 Real Estate Group and we are thankful for all you did for us. Sincerely, Jessica and John Berry"
– Jessica and John Berry, Byrd Park
"Kim Bergin is the best!!! I used Kim to be my selling Agent for my first home. Within one day of being on the market, it was SOLD! Kim was also my agent when I bought my second home and helped sell that home as well. My second home was on the market for 5 days when it went under contract!
Again, Kim helped us get our third home which we are still at 6 years later. Kim Bergin truly knows her stuff, hands out excellent advise on how to sell and things that can bring the value up without spending a lot of money. She made every transaction so easy for my husband and I. I would recommend Kim to anyone! I'm not planning on moving again, lol but if something should change, she is the person I will go to without a doubt. Even though I'm not in the market for buying or selling, Kim and I still have stayed in contact with each other, she is just such a wonderful person, friend, And realtor."

– Seller & Buyer in Glen Allen
"I highly recommend Kim to be your agent. We didn't want the house hunting process to be long and drawn out. When we told her what we are looking for, she provided homes that didn't waste our time (that we have little of). We were done with the house hunting process in less than a week. That's
definitely because Kim honed in on what we wanted to eliminate looking at houses that weren't a good fit. She goes above and beyond and provides her years of experience to give good insight on real estate issues you may not be aware of. Highly recommend Kim and good luck finding (or selling) your home! :-)"

– Buyer in Glen Allen
"Smooth and excellent transaction. Had my own lender and had issues with them. Kim referred me to a lender that she recommended and one of the smoothest processes ever. Thanks and would highly recommend her."

– Buyer in Ashland
"Kim worked with us in two different, but difficult situations. The first was when we were coming to the Richmond area when it was very much a sellers' market with homes in short supply. She was able to navigate the landscape and line us up with the house that met our requirements in a short time at
a good price. In addition she stuck with us post purchase and helped us become familiar with the Richmond area, what we had to do as new residents and was always there to help us find providers of services that we needed. The second time is when we wanted to sell in a buyers' market. Again she helped us navigate another difficult, although different, environment to get our house sold. Everyone was impressed with how quickly Kim helped us sell in a very slow real estate market. Real estate transactions are always a bit overwhelming and you need someone with Kim's experience, knowledge of the area, contacts, drive and personality. I highly recommend her services to make your transaction buying or selling a success."

– Buyer in Glen Allen
"Kim Bergin was very helpful and provided excellent service to us. She is indeed experienced, knowledgeable and professional – an asset to the firm."
– David & Kirti Darnell, Wyndham Forest
"Kim went above and beyond what I expected.She made the whole process as easy as she could.I would definitely recommend (and already have) Kim to my friends.She is still a wealth of information for me even 2 months after closing."
– Rowena Johnson, Woodland Heights
"We would really like to thank you for all your hard work in helping us find our first home.We are very excited to start our new life on Holly Hill Road.Thank you, we will always remember your upbeat attitude, trust worthiness, and sincere efforts."
– Mary and Kurt Williams, West End
"Kim was/is the only agent I ever worked with that I felt was truly working in my best interest.She made me aware of all options that were open to me in inspecting a house for purchase and protected by interests when selling that same property later."
– Ben and Heather Couvillion, Bon Air

"I must say Kim Bergin was very professional and knowledgeable. She cared about what I wanted. She was always looking out for my best interests. My closing was not the norm. There were a lot of problems with the title which made Kim's job very difficult.Most Realtors would have given up, but Kim didn't.When other parties dropped the ball, she picked it up and got it done.She was fantastic!You have one excellent Realtor and should be proud to have her on your team."
– Boyd Newlin, Pemberton Oaks
"I'd use Kim again and recommend her without reservation to anyone looking to buy or sell a home.She was extremely professional and went the extra mile."
– Brian and Kimberly Sebrell, Church Run
"Kim did a great job of listening to our needs, solving problems and communicating with the seller. She is friendly and professional."
– Michael & Kimberly Southam-Gerow, Bellevue
"Fabulous service from Kim Bergin! Far exceeded our expectations! Grade: A+"
– Randy Huffer, Smoketree
"The minute I met Kim at the open house on Montrose, I knew she was the agent for me!She is professional, personable and knowledgeable. She was efficient, tenacious and I will use her again for all of my real estate transactions."
– Ann Jones, Bellevue
"You, Kim, have gone beyond the call of duty…The service level I have gotten from someone like you that I haven't even met yet has been astounding…I think you have hung the moon and have done so much with, unfortunately, so little to work with…You have really done a phenomenal job!…Any business transaction I have been involved in, I have never had the type of service I've had from you.It is very rare you get this type of service…You have developed the Kim Bergin fan club and I'm your number one fan!"
– Pete Margaros, Shannon Green
"Kim Bergin is great.I was relocated thru a company and it complicated the sale, but Kim was helpful through it all!"
– Barbara Goodman, The Fan
"Kim was extremely helpful and dedicated to helping me find the type of property I was looking to purchase.She was very knowledgeable and had the patience and professionalism I was looking for in an agent."
– Michael Hicks, Lakeside
"Excellent!!!Kim was wonderful. I would refer her to family and friends and when I sell I will use Kim Bergin again."
– Ebonee Hayes, West End
"I would recommend Kim in the future! She provided excellent service and followthrough."
– Timothy and Kathy Folster, Ash Creek
"Kim provided good, objective feedback on each home we previewed relative to our stated search criteria. She did not try to "oversell" or overstate the features of any house.-Remained flexible and patient as our search criteria changed. She took initiative to follow up."
– Gregg & Marji Collings, The Fan
"Kim was great. She consistently followed up on all my questions and requests."
– Ronald Bennett, Cedar Chase